Archive for the 'Apartment' Category
The term "Furnished NATO Housing" is used to refer to a fully furnished apartment or house. These fully furnished units go by many titles; Extended Stay Housing, Corporate Apartment, Furnished Off Base Housing or simply furnished apartments .
Even though there is different terminology, each basically mean the same thing and there are basic expectations and responsibilities when it comes to leasing any unit regardless of what its called.
When someone is on business travel, military travel, or relocating on temporary assignment these types of housing are often an ideal choice. Especially when the length of stay is not immediately known or the stay is longer than a few weeks. The cost is typically more than an unfurnished residence, but once you factor in the cost of renting or purchasing furniture the overall price is quite comparable. Another important factor is someone else doing all the leg work for you. Read the rest of this entry »

When traveling to a location for an extended period of time or living there for work, a great option for the person that wishes to get settled quickly in a new environment is to consider renting a furnished apartment (sometimes called corporate housing). Finding an affordable, comfortable furnished apartment to rent can be tricky. When money is no object luxury accommodations are plentiful. If you're working with a budget the search becomes more challenging.
When deciding about furnished apartments to rent, there are some options available to help find locations as well as deals; find a realtor to help you, search through the internet, the newspaper, word of mouth or simply wander through the neighborhood you'd like to live in.
Renting a space that is already equipped with everything you need, can save both time and money in the long run if you're planning to move out after a period of time. Unlike staying in a hotel, furnished apartments allow you to feel more like you're living in a home. There's usually more room and you can add decorations to suit your individual taste.
Read the rest of this entry »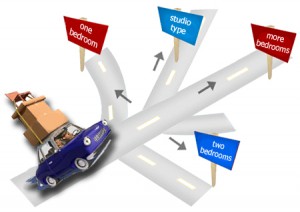 When holiday seasons are done and you think it's enough for too much enjoyment, you will begin to face a renewed life thinking about how to live the next days to come. It might include getting a new work, a new course and a new place to stay. You can have second thoughts about getting new work but not in getting a place to stay. As humans we can't simply afford to distress ourselves with uncomfortable house where we rest and take sometime with our family members. Perhaps, it's the time to look for comfortable apartments that you can stay for good.
There are various apartments that you can choose. Depending on your type and preferences, you can always find quality apartments. Just before you turn the door knob of the place where you will be moving in, there's a few things you should understand to protect your interest. Read the rest of this entry »