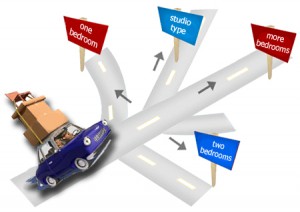 When holiday seasons are done and you think it's enough for too much enjoyment, you will begin to face a renewed life thinking about how to live the next days to come. It might include getting a new work, a new course and a new place to stay. You can have second thoughts about getting new work but not in getting a place to stay. As humans we can't simply afford to distress ourselves with uncomfortable house where we rest and take sometime with our family members. Perhaps, it's the time to look for comfortable apartments that you can stay for good.
There are various apartments that you can choose. Depending on your type and preferences, you can always find quality apartments. Just before you turn the door knob of the place where you will be moving in, there's a few things you should understand to protect your interest.
Read and understand carefully the leasing agreement. Make sure that there were witnesses when you signed the documents. Never assume what the contract states especially regarding your monthly bills. Check on what is inclusive and exclusive of the bill as well as legal actions you can take in case there will be misunderstandings of the contract you signed. The leasing agreement will protect your interests against being taken advantage by your landlord and inefficiency of the apartment.
Inspect the place with the landlord. Before you move in to the apartment, do a walk through with the landlord. You must scrutinized every parts to ensure that you will not be liable for damages you haven't done. In this way you can also ask him to fix things that are already damaged.
Document the condition of the place before you get in. There are some apartments that are not that well polished. You can take a photo or detailed video of broken fixtures including walls, carpets, and doors before you move in. It will serve as your proof if the landlord argued about seen damages.
Safety your safety deposit. Make a close discussion with the landlord about your safety deposit. You must know the considerations for refund. You can also record it so that when you think you can't stay any longer, you can get your refund.
Always ASK. It has been a problem of many renters. When there are things unclear to you, always ask. It will save you from any arguments with the concerned parties. Don't assume things especially when legalities and do's and don'ts regulation of the house are concerned.
Despite the comfort that an apartment can give, it can be outweighed by stressful problems especially when it is your interest that is concerned. As always, it's better to be safe than sorry. So, make it as your priority before moving in. It will save you from arguments, legal actions, mishaps while at the apartment and misunderstandings with the landlord. If you care about what the landlord will think about you, need not to worry because they knew it's just the right thing to do. These are safety precautions to guard yourself and so you can do it at any apartment you wish to settle. That's why apartments in sandybayapartments are open for clarifications regarding your possible issues.